Last night, after my sweet memories of Magnolia Bakery, I had a hankerin for Banana Pudding. So, a quick walk next door to Haggen for the ingredients and I was ready for my indulgence. It was early on in my baking when I realized that I bought regular vanilla pudding instead of the instant vanilla pudding. I let the "medium sized bowl" of pudding "set" for 15-20 minutes in the fridge, while Madeline and I hand whisked our heavy cream into soft peaks (yes, we hand whisked it). I scooped a toppling heap of cream onto the white spatula, anticipating the gentle folding into the pudding. Drop, Plop, Splat, WHAT??!!! The pudding was NOT set. I scrambled to remove the box from the recycling, and yes, I realized my dreaded mistake. I figured that the regular pudding would set fine in the fridge after 4 hours, no problem. I continued on, layering my nilla waffers, banana's and pudding sludge (it looked lumpy with my not-so-nicely-folded-into-pudding-hand-whipped-cream). When it was finished I topped it with crumbs of wafers, gently placed the bowl into the fridge to "set," and plopped on the sofa to watch "27 Dresses." Part way through the movie (The part when Jane's sister Tess meets the illustrious George), I realized, "OH CRUD, regular pudding needs heat to set." I searched the web for any info I could find, and my worst fear was confirmed by a wonderful woman, Nancy, "Yes, I needed heat to set that darn pudding." My only hope was to make banana milkshakes. Deciding that I would not let my creation become blender blob, I pulled out my strainer, and let the unset liquid drip into my sauce pan. The rest of the bananas, wafers, and cream looked less than excited, but I just wanted to take a bite of smooth light vanilla pudding with ripe soft bananas and wafers that had been partially softened in the mix. I heated the pudding as directed on the box, let it cool. Meanwhile I whipped some more cream, this time with a real mixer, and folded it into the soft pudding. I stirred in the bananas and wafers in, and topped it once again with shards of nilla wafers. I tucked it into the fridge, and awoke to a beautiful bowl of real banana pudding! Now, it didn't look as pretty as I would want, but the taste was more beautiful than I could have imagined! So when life gives you regular pudding, don't make banana blob!

Enjoy the recipe below!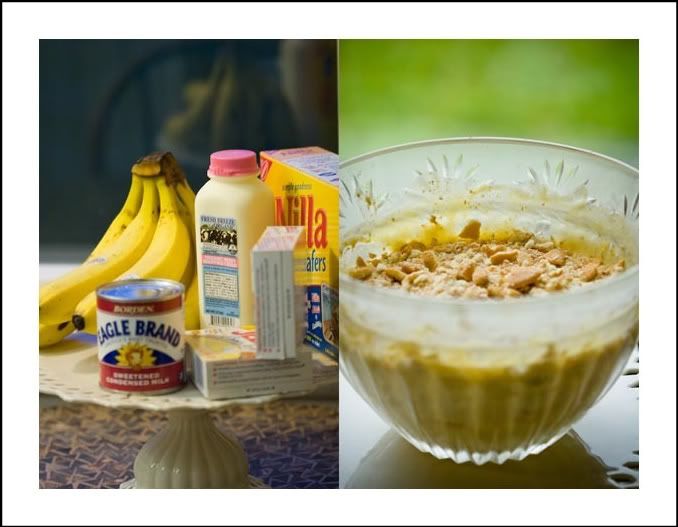 Better Banana Puddin'

2/3 cup INSTANT vanilla pudding
1 1/2 cups cold water
1 14oz can sweetened condensed milk
1 cup heavy cream
1 box vanilla wafer cookies
3-4 ripe bananas, thinly sliced on the diagonal

Pudding: in medium bowl whisk INSTANT pudding and water until no lumps remain. Whisk in sweetened condensed milk until well combined. Allow pudding to set in fridge for 15-20 minutes. Beat heavy cream until stiff peaks form. Fold it into the pudding.

Cover the bottom of your favorite pudding dish with a layer of wafers. Top with a layer of banana slices, then cover with pudding mixture. Repeat layering until pudding is covering the last layer of wafers and bananas. If desired, break a few cookies into shards and crumbles, and scatter across the top. Let chill in the fridge until ready to serve!

Serves 6-8 people.